A Community of Kindness Saved Alice and Her Puppies
Two-year-old, Pittie mix Alice was late in her pregnancy and left to fend for herself in a house in Georgia, while her body struggled to nourish the large litter of pups she carried inside her. It was a life-threatening time for her to be abandoned.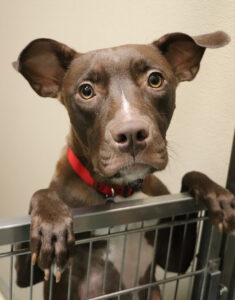 Thanks to the compassion from her neighbors, Alice had food for four days. Once these kind strangers realized that no one was coming back for her, they called Animal Control, and it was in the nick of time. Forty-eight hours later, Alice gave birth to 11 puppies, though sadly one puppy was stillborn. With the help of our shelter partner, Georgia Coalition Rescue, Alice and her litter of two-week-old pups made their way to the safety of our Port Washington, NY campus.
In our Nursery, mamas and orphans who need special nurturing and time receive our round-the-clock attention. With such a large litter to nurse, our staff was attentive to Alice and her puppies, and made sure each one was gaining the proper amount of weight, and dispensing supplemental feeding when needed. Alice also needed additional support to help her stay healthy so she could care for so many little ones.
The puppies thrived in our care, and were soon able to be placed with responsible families where they will be cherished for years to come. Alice has also flourished in this nurturing environment, and has become a staff favorite during her time here. And now it's her turn for a new beginning. Alice is ready to find a home of her own. If you would like to meet this sweet girl, you can contact our Adoption Center at 516-883-7575 or click the Inquire About button on her profile.
The rescue of Alice and her litter took dedication from many animal advocates working together — from her kind neighbors and our rescue partner, to Animal League America medical and adoption teams, and our enthusiastic supporters. Everyone helped give Alice and her litter a chance at life, and a hopeful future.