Jackson, an emaciated four-year-old Great Dane, seemed to already know his life had changed for the better. Part of fifty dogs rescued from commercial breeders in the Midwest, with the help of National Mill Dog Rescue, Jackson just spent three days in our Mobile Rescue Unit and already experienced more loving care than he had ever known.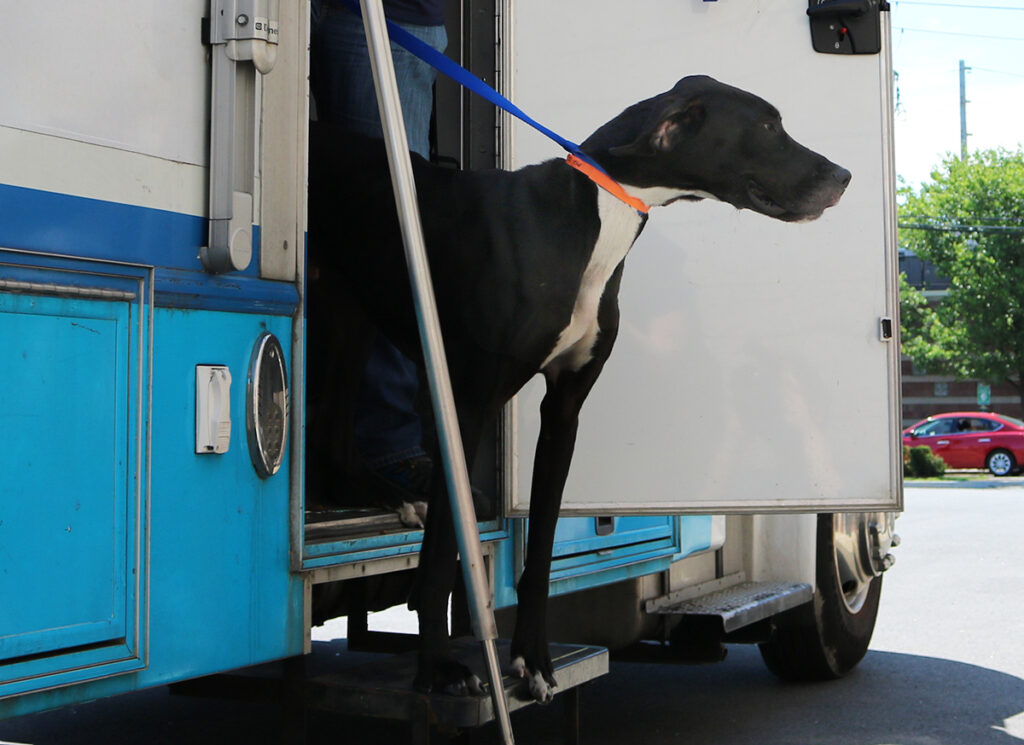 On Saturday, we welcomed 48 dogs and two puppies to our Port Washington, NY campus from Missouri. As one-by-one, a variety of dogs — including many Poodles, Pomeranians, Dachshunds, Shih Tzus, and Yorkies — made their way into the gentle hands of our volunteers to be carried inside, you could see a common feature in all their faces. They were ready to accept a tender touch. Whether shy, or confidently seeking attention, it was clear each dog was grateful for the kindness and compassion we were there to give.
This mission is the first rescue collaboration with National Mill Dog Rescue since COVID-19 restrictions were implemented over a year ago. North Shore Animal League America is excited to resume these lifesaving efforts. Many of these animals were sadly treated as commodities — used purely for breeding purposes, and surrendered when they were no longer able to produce litter after litter, or suffering with an easily-treatable medical condition. Fortunately, we know how incredible these dogs are, and what loyal and loving companions they will be.
Ted Moriates, Co-Rescue Team Manager, snuggled Wendy, a five-year-old Yorkie in his arms. "These animals are getting a lot of firsts, and the process really begins on the van," he reflected. "They get the first companionship and socialization they've ever had. Even their first toys. They go from living life in a cage to getting true caregiving, and we see how much love they have to give. Already, they are giving us licks!"
The care that awaits every animal who comes to us includes a thorough grooming, and medical and behavioral evaluations. Once each dog is ready for a loving home, Animal League America is exceptionally careful in monitoring the adoption process, stressing that bringing home a new family member from us is potentially a 13-15 year commitment. Our Counselors work with each adopter to find the animal that fits their lifestyle and ensure they understand the responsibilities of pet ownership.
Though his ribs stuck out prominently through his black fur, Jackson bounded off the Mobile Unit with energy, and wanted to greet every Animal League America staff member and volunteer. Just like us, he knows there are better days ahead for him, and can't wait to get started!