In the Good Old Summertime? Not so much when your passion is rescue.
Summertime is supposed to be a season of fun in the sun and lazy days with lots of time to do all the things you love, like reading, walking on the beach, and gardening…or just plain doing nothing at all.
But for people dedicated to animal rescue, summer can be frustrating and heartbreaking. Let me begin with Independence Day!
Sorry, but I hate fireworks, and so do my cats and every animal I've ever known. And the violent pops and flashes aren't limited to July Fourth; many people begin their own events days before the holiday, and the bangs, whizzes, and loud booms terrify both people and animals.
People suffering with PTSD, those on the autism spectrum, people exposed to gun violence, and farm animals… they all suffer. Wildlife is horrifically affected as well. Birds, bees, and butterflies lose their sense of direction. Plus, I have a family of deer living in my backyard that I couldn't stop thinking about. How scared the mama must have been as the fireworks were blasting away.
Is it really worth it? Not in my book. Besides, there is an alternative: Many towns in Europe now use silent fireworks. Wouldn't it be great to introduce this in our own communities?
And then there's the post-holiday mess. I spent most of my July 5 walk on the beach picking up broken glass, balloons, garbage, bottles…and more balloons. What goes up, must come down and so many of those party balloons end up in the ocean where animals get caught in the strings or ingest the latex and metallic plastic that balloons are made of. And they suffer and die. I repeat: Not worth it!
Between kitten season and the dangers so many animals face due to the heat, neglect, and abandonment, summer can bring sleepless nights and sometimes, just plain sadness to many of us. But nothing can prepare you for the bizarre situations that hoarding can create. In late June, my partners at Long Island Veterinary Specialists contacted me about several cats rescued from a hoarder. They'd all been left without food or water when the person went into the hospital. The horrific scene was discovered eight days later.
I took in six purebred cats who'd been stuffed into a small cage covered with a blanket and with a heat lamp aimed into the cage 24 hours a day, burning their retinas and skin. Five of the cats are severely affected, mostly blind due to this abuse. Sadly, one of them didn't make it. Another rescue group helped with the many roaming cats found in the home.
Peony, a sweet black kitten, was quickly adopted by a pre-approved adopter before I had a chance to post her on Instagram. She has eye issues but is not blind and is doing great with her new family.
Prince (now named Chance, below), who is blind and has kidney disease because of the hideous abuse he endured, has found a beautiful new family to cherish him.
Willow (below) is one of the lucky ones who didn't lose her vision. She went home with a wonderful couple and met her new sibling Purrsilla! She even started to play. My heart is full!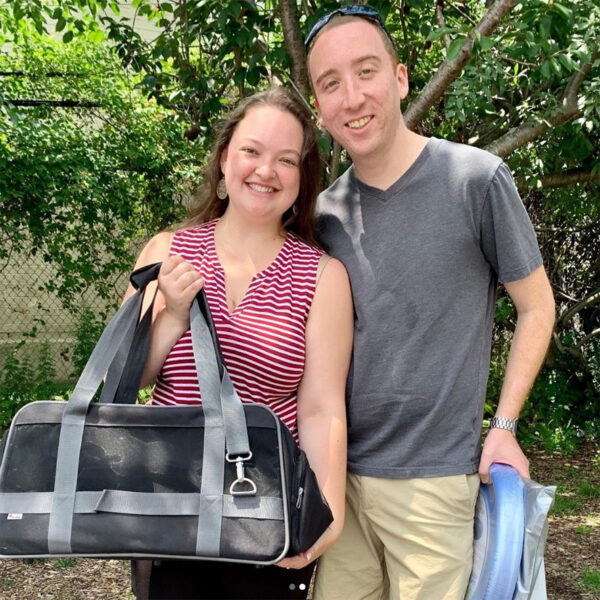 Below you'll see Alfalfa (in back) and Sparrow. Gentle Alfalfa is sight- impaired but not blind and went home with a nurse who will continue to nurture him and heal his soul. Sadly, too many animals suffering from abuse aren't as lucky as Alfalfa and his rescued friends.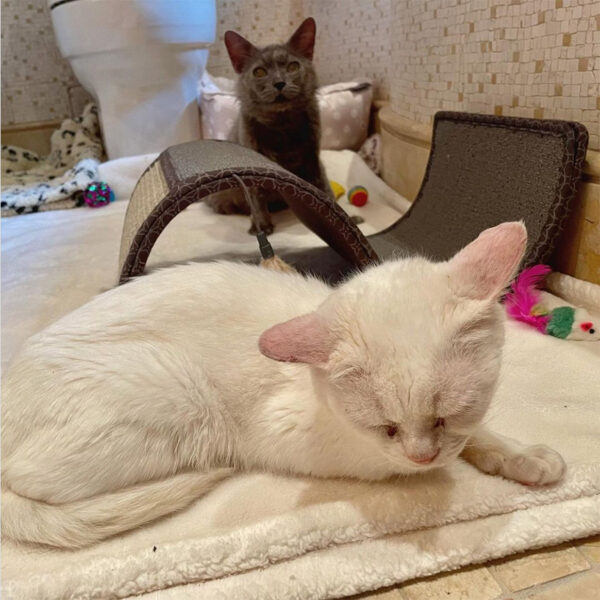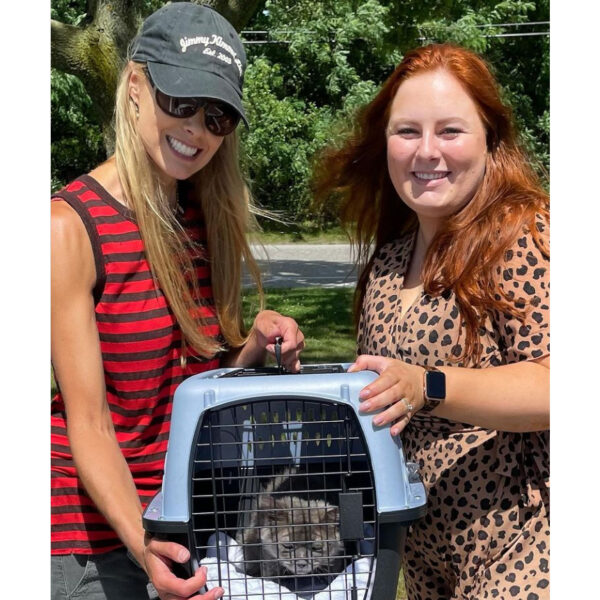 Little Sparrow, who is blind and deaf, will be with us for a while. She's been so closed off, not wanting even to be touched. She is on four different daily medications, so it's challenging. But every day is a step in the right direction. She is now beginning to enjoy being touched, and I'm very encouraged and hopeful. It must be very scary navigating her world like that when she was most likely born perfect. I cannot say it often enough: Animal abuse sickens me to the core.
At the moment I'm focused on these brave abuse survivors, but I cannot neglect telling you about some of the thrilling adoptions of senior cats like my boyfriend Tater and special-needs kittens like adorable blind kitten Nestle.
Tater, my giant lover boy, is a sweet older guy whose family of many years could no longer care for him. He had to have all of his teeth removed because they were so rotted, and he also has a very poor coat of fur due to a bad diet. We got him back on track so his physical health matches his inner beauty and we found him a "perfectly perfect" home.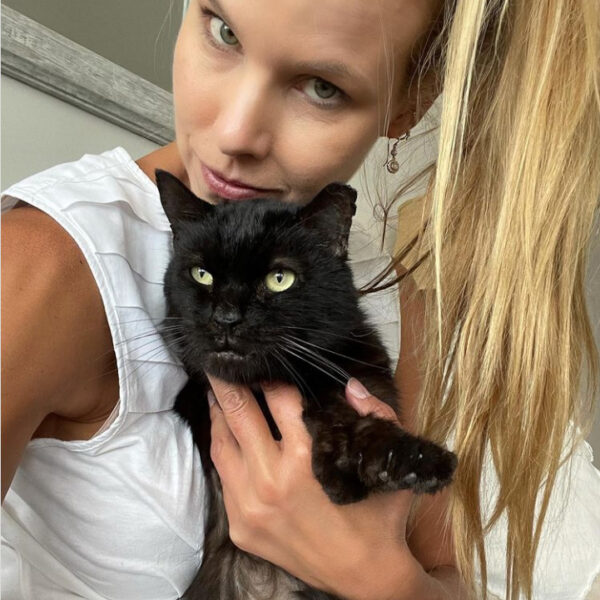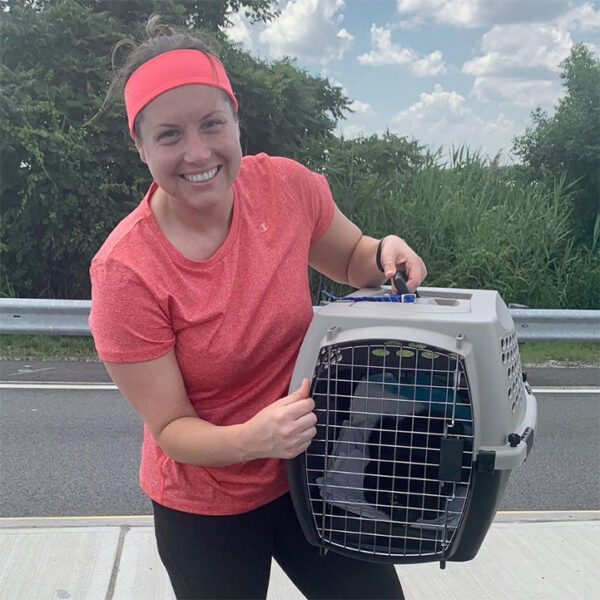 Everyone fell in love with teeny, tiny Nestle, a blind and beautiful kitten. As it turned out, she did not need eye surgery and has positive light perception but is not able to track objects. So basically, she has very little functional vision. Who needs to see anyway? Not Nestle! She is impeccable with her litterbox and very adaptable in new spaces. Also, she never misses a meal! She's great with other cats and is so playful and fun. She's an itty-bitty stinker and I was moved to tears when we found her such a fantastic home.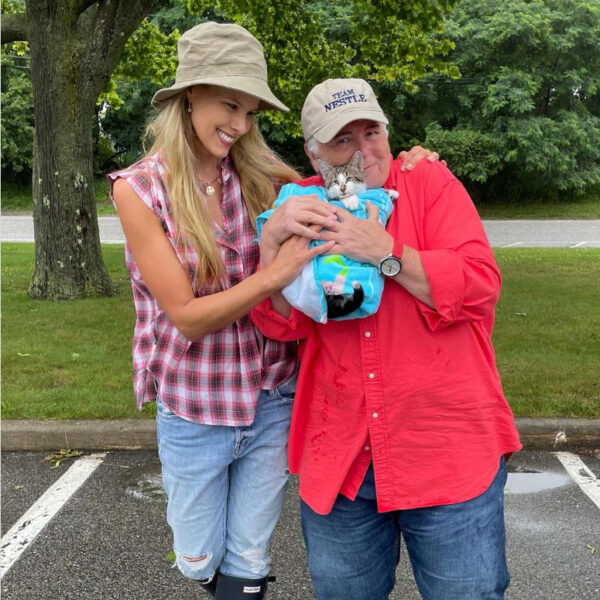 The thought of senior cats and dogs sitting in a shelter environment is just so upsetting to me. I urge everyone to make plans for their pets if they pass before their pets do. Tragically, you can't rely on family members to step up.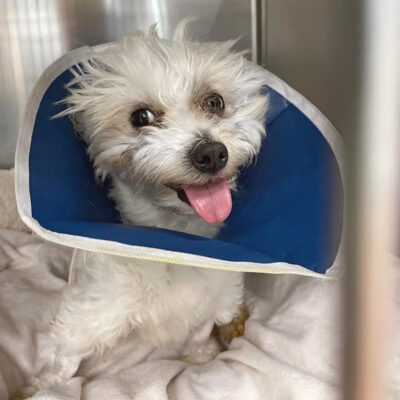 So, I was thrilled when a 4-year-old Maltese (right) found a loving home though my IG post. This seven-pound sweetie had been hit by a car and brought to a veterinarian to be euthanized. Thanks to Dr. Jacqueline Carver at the Veterinary Medical Center of Long Island, this guy got the surgery he needed and went straight from the hospital to a new home. I am honored to have been able to help.
The same goes for a bonded pair of neutered, healthy, and playful bunny brothers, Nicky and Howie. Approximate 1 to 2 years old, they were given up because their family didn't want them anymore. People should research bunnies before adding them to their households because too many end up without homes due to their owners' ignorance. No animal deserves that. Thanks to Instagram, I was able to post their photo and help them find an experienced home.
Doggies and bunnies and felines, OH MY!
And I can't forget Francine, an injured pigeon who can no longer fly. My wonderful friends at the Evelyn Alexander wildlife Rescue Center on Long Island took care of her for me. While she was there, she bonded with another pigeon, Lyle. I posted her photo and almost before I knew it, they were off to a safe forever home, joined by a third pigeon.
It really has been a busy, challenging, difficult, beautiful, sad, wonderful, maddening, and inspiring summer so far. And it's only July!
There are so many others in my program at the moment — way too many to list here — and all of them are worthy of safe and loving homes. What's tragic is that so many of them were abandoned by people who simply lost interest in them. Or they were born into situations that did not provide them with the proper nutrition and medical care — and are blind because of it — which is especially true of several of my current kittens.
Even with all the generous help from my husband and my many colleagues, friends, and partners, the demand can be truly overwhelming. Like everyone in this work, I get discouraged, angry, and sad.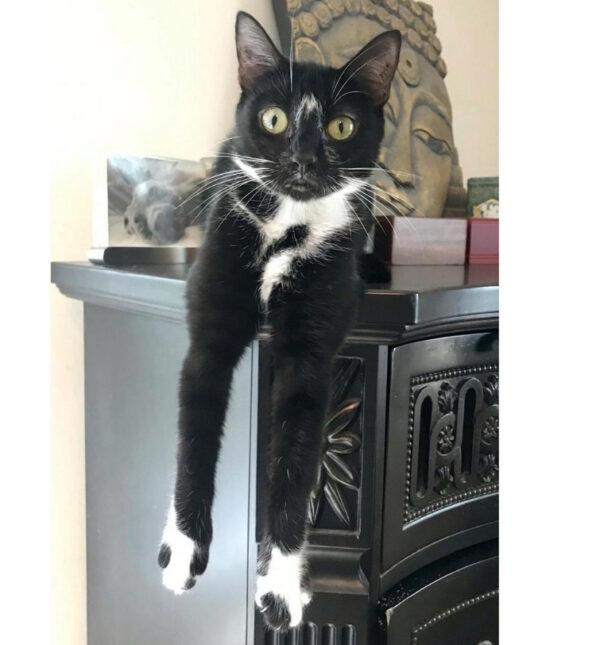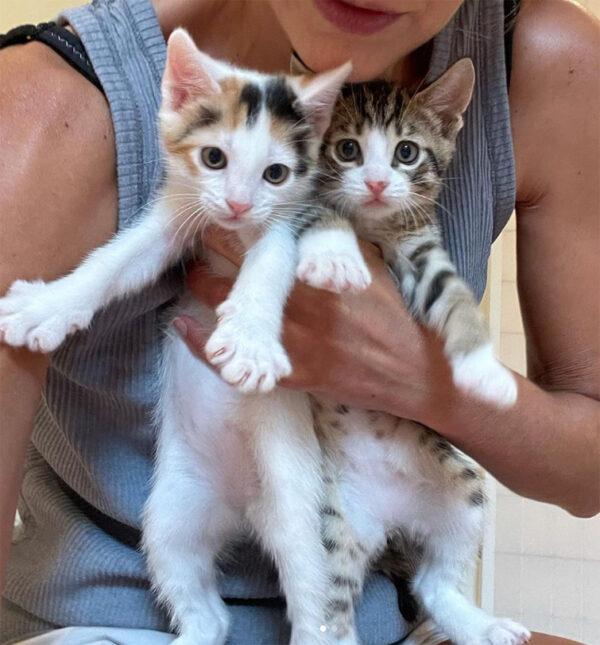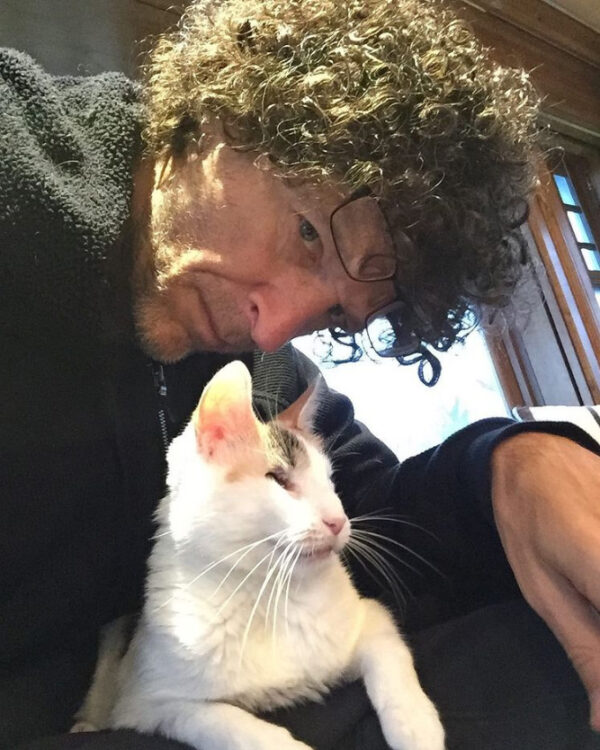 And it all makes sense. At this moment in my life, and as hard as it often is, this work fulfills me. It is my bliss, my passion, and my love.
xo
Beth
P.S. You might not know it, but July is National Lost Pet Prevention Month. Summer is clearly the season when pets frequently go missing. So here are some tips:
Keeping them indoors and safe all the time, especially during parties and holidays, is crucial to your pets' wellbeing.
Doors opening and closing and people distracted by parties, guests, and summer activities can lead to disaster. I've heard way too many horror stories about animals being petrified by fireworks or just curious about the great outdoors and running off and never coming back.
So besides being super vigilant about doors and windows, it's vital to make sure your pets have ID tags, are microchipped, and for dogs, kept on leash.
P.P.S. There are other things to concern us when it comes to animals and summer: pets in parked cars, for instance, and dogs tied outside without shelter and water. Keep your pets hydrated. I love to put ice cubes in their water. And it's so important to protect our pets from fleas, ticks, and heartworm. (Cats get heartworm, too.) Summer storms mean preparing our families and pets for emergencies.
And as if all this weren't enough, avian experts are telling us to take down our bird feeders and birdbaths to prevent the spread of a deadly disease that is decimating wild bird populations across the country, including hummingbirds and especially young songbirds. What a summer! Visit the National Audubon Society's website to learn more.